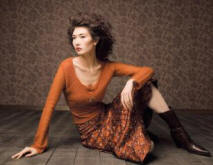 Note the yellow tones moving for instance toward olive, moss and cardamom as in the Miss Selfridge dress above.  Gold also moves from palest gold, richer deeper 24k gold, through into rose gold, copper and ginger effects. 

Shimmer is everywhere.  Watch out for metallic copper effects on leather jackets and evening fabrics.  Image left in terracotta tones is courtesy of Noli Autumn Winter 2007/8 womenswear. 
The sun dried rich ochre and terracotta of spring, has gained ground and autumn sees a move toward chartreuse greens.  The effect is that of a tangerine with that hint of green to the citrus skin.  These burnt orange colours take on a dustier look more suited to the season of falling leaves. 
Some of the burnished terracotta tones are shown here.
Gold, camel, orange and tan are used as a mainstay fabric colour for materials especially leathers.  If you are terrified of wearing such a hot bright colour near your face, then opt for the simple solution of a new hand bag like this bag from Accessorize below.  It can add that jolt of colour that makes your self styling pop.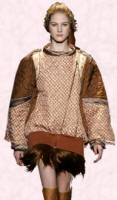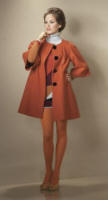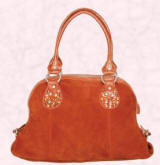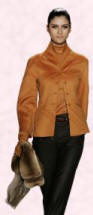 Chisato design image above left courtesy of IFTF.  Rust coat image available from of Matalan.   Bag - Autumn Winter 2007/8 Nova suede and stud tote is from Accessorize and costs £40/€62.  Rucci ginger jacket image courtesy of IFTF.
This is an opportunity to get out that rose gold jewellery or coral holiday necklace that languishes in your drawer.  I am reliably informed by a jewellery executive that sales of smoky quartz jewellery have soared these past months.  This too could be the season when amber,citrine gemstones and copper as a fashion metal regains great popularity.  You are reading an original fashion article by Pauline Weston Thomas